Braveheart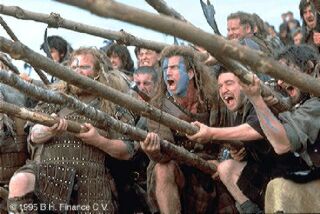 To best view this page, use this font: Ocopperplate-Heavy
Freedom.wav- "FRRRREEEEEDDDOOOOOOMMMMMMM!!!!!!!"
Irisheng.wav- "What the hell are the Irish doin' fightin' with the English?"
Learnuse.wav- "First, learn to use this. Then I'll teach you how to use... this"
Noooo.wav- "NOOOOO!!!!"
Notevery.wav- "Every man dies. Not every man truly lives"
Yerfucked.wav- "The lord tells me he can get me out of this Mess. But he's pretty sure... yer fucked! HA!"
Brspeech.wav- The speech that inspired a war. Back to Kickass Vault All sounds, fonts and pictures contained or linked from this site retain their original copyright as owned by their respective production companies. All sound files are for review, learning, and criticism or for review for movie purchase purposes. The folks who made The Kickass Sound Vault hold no responsibility or liability from misuse or abuse of these files. Email me here: khelben@concentric.net